How do I buy a stock on Chaka?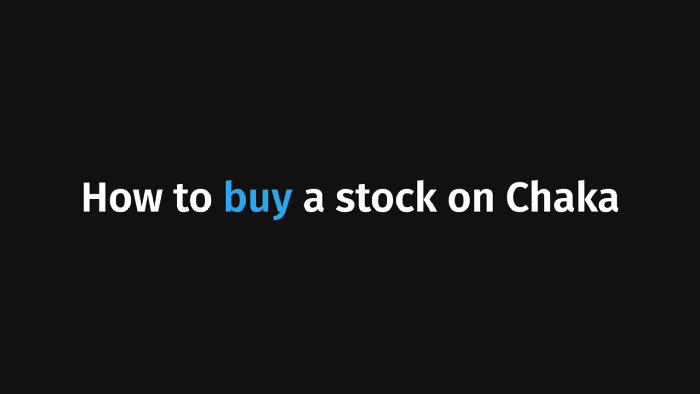 The Chaka home page is designed to highlight market movers and top-performing stocks. However, if you intend to purchase a stock that is not listed on your homepage, here are the steps to follow: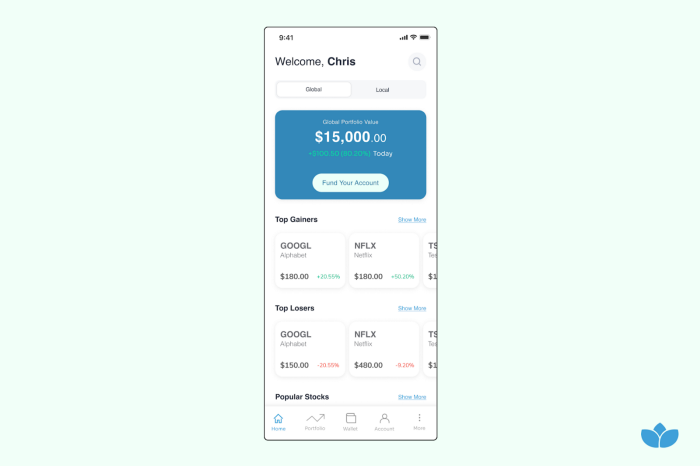 Click on the search icon at the top right-hand corner of the home page.
Enter the instrument name or Ticker in the search bar.
You can also search by sector or country.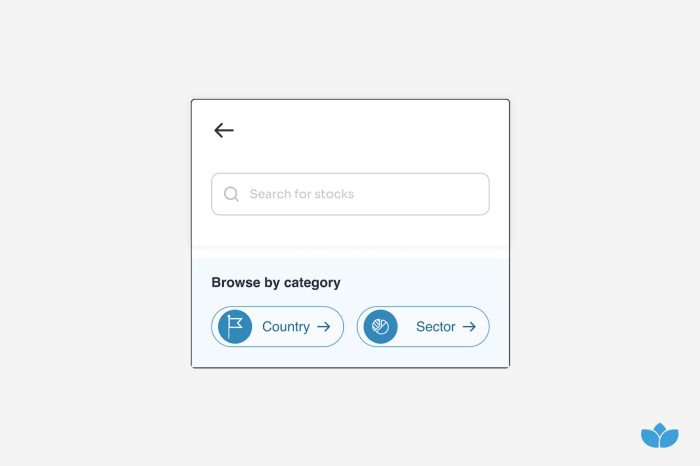 When you find the stock you intend to trade, click on the stock ticker to navigate to the single stock page. On this page, you will find information that includes:
Line Graphs showing the instrument's performance over different periods (1d, 1m, 1yr, 5yr)
Stock Information: including day range, PE ratio, earnings per share, Volume traded, Market cap and Dividend yield.
Company Information: A brief summary of the company.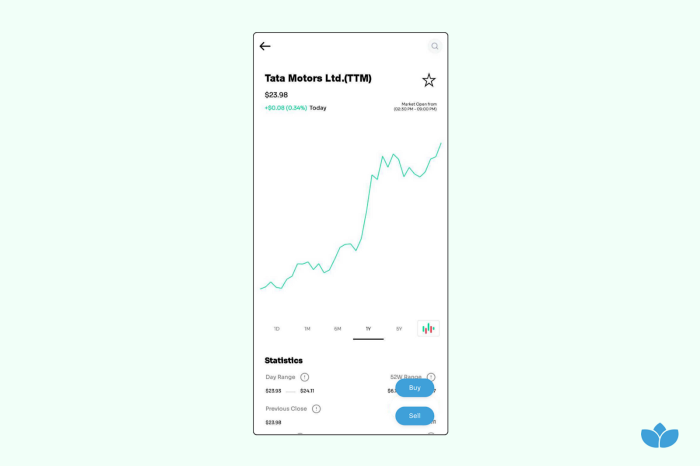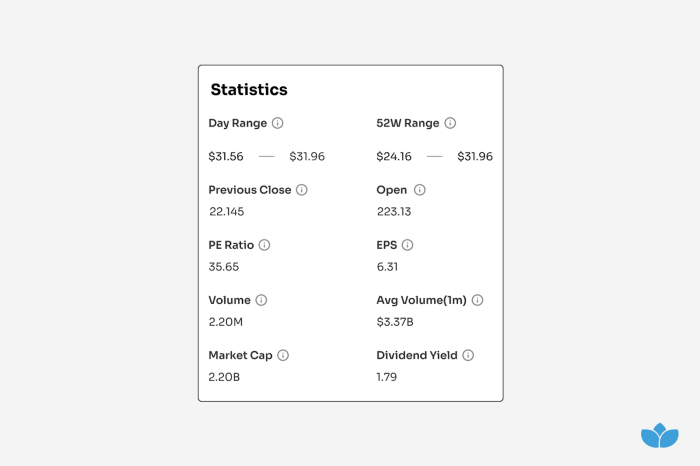 Follow the steps below to successfully complete your buy order:
Buying stocks:
Select the stock you are interested in buying.
Select the order type (Market, Limit or Stop).
(Market order, limit order and Stop Order)
Note: If you don't own the stock only the buy button will be visible. If you own the stock, both buy and sell buttons will be visible.
Buying a Market Order
Select quantity (fractional shares available) or estimated cost.
Place order.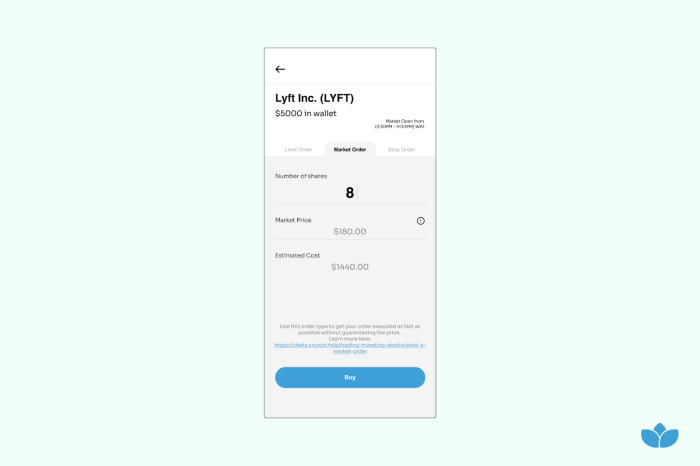 The order will be executed as quickly as possible, at the market price at the time of execution (this may be different from the market price at the time of placement, especially for a highly volatile stock). If the price increases before execution, the quantity bought will be reduced to ensure the total cost remains unchanged. e.g if you placed an order for 10 shares at $10 each (estimated cost $100), if the market price increases to $12.5 before execution, the quantity will reduce to 8 to that total estimated cost is still $100. Similarly, if the price reduces before execution, the quantity bought will be increased to ensure the total remains the same.
Note: Always check order execution email for final execution details.
Buying a Limit Order
Select quantity

(No Fractional Shares available)

Select Limit Price
Place order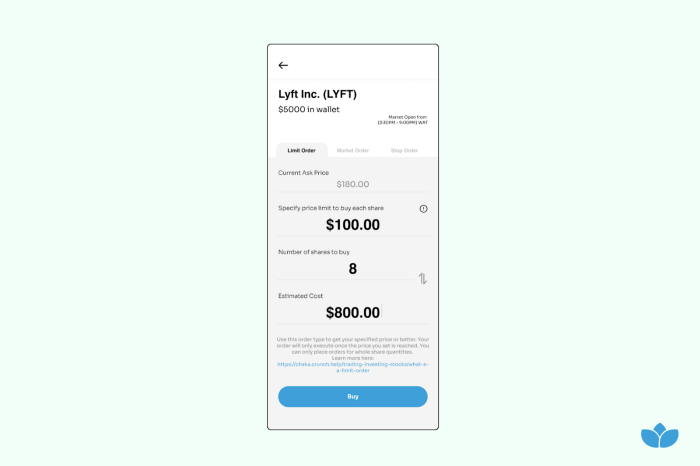 Limit Buy order indicates the maximum amount a trader wants to buy a stock for. As such the Limit Price should be below the market price otherwise the order will execute as a market order.
Note: It is possible to receive a price better than the price requested.
Buying a Stop Order
Select quantity

(No Fractional Shares available)

Select Stop Price
Place order
A Buy-Stop order creates a market order once a condition is reached. The stop price is usually above the Market Price.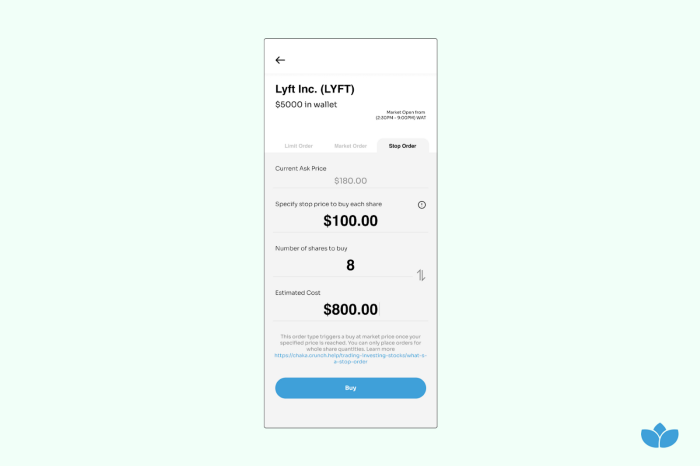 Note:
The US stock market opens from Monday through Friday from 9:30 a.m. to 4 p.m. EST (2:30 p.m. to 9:00 p.m. WAT).
The Nigerian stock market opens from Monday through Friday from 10:00am to 2:20pm WAT.
Trades can be placed outside the market hours but trades cannot be executed outside market hours.
Congratulations!
You're a shareholder.
You can proceed to your portfolio page to view purchased stocks.
Download the Chaka app on Google Playstore or App Store to start trading over 4,000+ assets on the stock market.
Related Articles

Simple Definitions of Terms on the Chaka Stock Statistics Page

No. of Shares This is the number of shares you own in a company. Value of Shares This is the monetary current value of the shares you own. Net Earnings This is the amount you have gained or lost since you bought the stock. Volume This is the number ...

What are the fees on Chaka

How are Dynamic Fees calculated? Fees are calculated by your 30-day trade value (including your current transaction). What is a 30-day Trade Value? Your 30-day trade value refers to the sum of all the trades you've placed in the last 30 days. For ...

How do I fund my Chaka wallet?

Upon completion of verification, you can fund your global ($) or local (N) wallet with any amount, starting from $10 or N1000 using either bank cards, bank transfers (instant funding) or through your bank's USSD code. Here is a step by step guide on ...

How to access Chaka on TradingView

Trade directly on TradingView's charts using Chaka How do I connect to Chaka as a broker on Trading View? Access to Chaka on TradingView is currently by invite only. Request for an invite via chaka.com/tradingview and we will be in touch! How many ...

How do referrals work on Chaka?

Start building wealth with the people you love. With the Chaka referral program, when you refer a friend, you and your friend can earn up to $50 each to invest in over 4,000 stocks on Chaka. How many friends can I invite? As many as you like. ...